Razzapparte, "Servi o Ribelli" CD: Home | Downloads | Reviews | Orders | Links [ Italiano ]
---
echo $title ?>
Razzapparte is a band from Viterbo (centre Italy) with a mixed line-up (skinheads, punks and hardcore kids). Since '95 they put out various compilations + "Gente Senza Poesia" 7"EP and played with bands like Klasse Kriminale, Reazione, Cockney Rejects, Special Duties and Red Alert.
Razzapparte is: Flavio - voice, Stefanino & Fiore - guitars, Puccio - bass, Stefano - drums.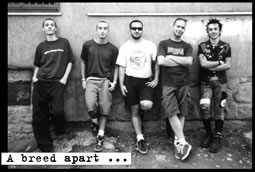 "Servi o Ribelli" ("Slaves or Rebels") is their first album, it contains 12 songs in the band's own style, a mixture of oi!, punk-rock and hardcore sounds. CD comes with 16 pages booklet containing lyrics, notes, pictures and drawings (by skinhead tattooist Crez). This records was co-produced by City Of The Dead, Dischi del Culo (adrenalink@inwind.it), Anfibio, Lambrusko (lambruskorecords@virgilio.it) and Spaghetti Records (youngang@virgilio.it).
Title track will also appear on SHARP Italia official comp, out in a few months.
Track list: Il Posto Dove Vivo (The Place Where I Live), Dietro Le Sbarre (Behind The Bars), Cittą Dei Morti (City Of The Dead), Rivolta Bootboy! (Bootboy Revolt), Servi o Ribelli (Slaves or Rebels), Un Altro Giorno Un'Altra notte (Another Day Another Night), Rabbia (Rage), Noi Ci Siamo Ancora (We're Still Here), It's My Life, Scegli (Decide), Nuove Regole (New Rules), Marchiati a Vita (Marked for Life).
Discography:
° Gente Senza Poesia 7"EP, Oi!Strike/Resta Rude (5 trx)
° Servi o Ribelli CD, Anfibio/Spaghetti/DdC/COTD (12 trx)
° VVAA R'n'R Anthems Vol.1 7"EP, Resta Rude/Applequince (1 trk)
° VVAA Viterbo HardCore 7"EP, autoproduzione (1 trk)
° VVAA Italia Skunk 12", autoproduzione (1 trk)
° VVAA Urbanoise Vol.2 CD, Rotten Records (2 trx)
° VVAA Class Pride World Wide II CD, Insurgence Records (1 trk)
° VVAA La Strada Brucia Ancora CD, Anfibio Records (1 trk)
° VVAA Oi! Strike Sampler CD, Oi!Strike (5 trx)
---